Gil Cisneros, COTA CEO, addressing participants at the Americas Executive Forum on Free Trade Zones.
Gil Cisneros meets international students at the International Business Reception hosted by Colorado Heights University in partnership with Chamber of the Americas, June 2013.
Gil Cisneros with Angie Rivera-Malpiede, Co-chair, Civil Rights Committee of Denver's Regional Transportation District (RTD) at the Executive Forum Luncheon in May 2017. She discussed Fastracks' purpose and goals to enhance environmental and economic sustainability.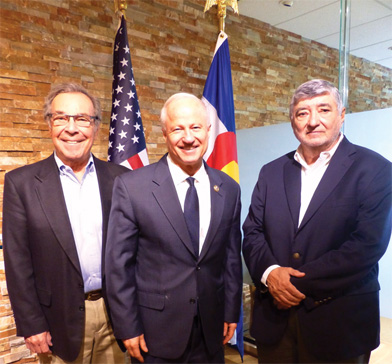 Tony Bottagaro and Gil Cisneros of COTA met recently with U.S. Representative Michael Coffman (center), of Colorado's 6th Congressional District, to discuss trade between Colorado and the Americas.
Gil Cisneros met with Navajo Code Talkers Alfred Newman and Bill Toledo about the important role Native American soldiers had in WWII. To help build a Navajo Code Talker Museum contact
Janet Altmann
for more information.