Lima, (ANDINA). Peruvian small and medium-sized enterprises (SMEs) which seek to conquer the European Union will have the opportunity to be part of 23 business fairs and roundtables in Peru and abroad, Peru's Exporters' Association (ADEX) reported Tuesday. The manager of the Committee on Small Business of the Peruvian Association of Exporters (Pymeadex), Roberto Molero said that the neighboring countries are natural markets for the SMEs, but they are making the first steps to bring them closer to the European Union.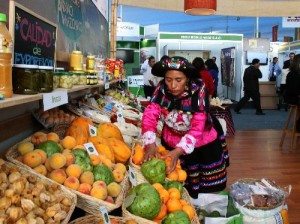 Diversidad de frutas son presentadas en la Feria Internacional Expoalimentaria que se inauguró hoy,en el Cuartel General del Ejército. Foto: ANDINA/Jorge Paz
Molero noted that they will promote the participation of the SMEs dedicated to handicrafts and jewelery in the fairs Iberjoya, Intergift, and Bijoutex which will be held in Madrid (Spain) in September. Furthermore, they will also visit the Jewelry Industry's Premier Event - JCK Show to be held in the city of Las Vegas in the United Stated. This was made possible thanks to a joint work made by Pymeadex and Peru's Export and Tourism Promotion Board (Promperu). The schedule includes other missions to the United States to be part of the Children's Club in New York to be held from March 6 to 8 and the Hannover and Resale fairs in Germany for the metal mechanic and manufacturing sectors. They will also visit the Colombiamoda Fair from June 27 to 29. This mission will be organized by Pymeadex and Promperu. The most important fair is without doubt the Expoalimentaria fair organized by Adex, which will have the participation of small and medium-sized enterprises from the food sector (agricultural and fishing), noted Molero.