by Trevor Williams
Arturo Sarukhan, Mexico's ambassador to the United States, wants to cut through the clamor.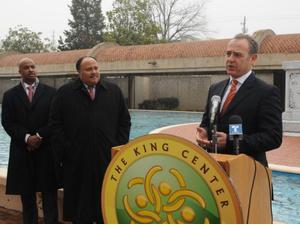 Photo Courtesy Mexican Embassy From left: City Councilman Kwanza Hall and Martin Luther King III look on as Mexican Ambassador Arturo Sarukhan speaks at the tomb of Martin Luther King Jr.
Despite frequent news reports of drug-related violence and the often-inflammatory debate surrounding the issue of illegal immigration, the U.S.-Mexico border is an asset that has boosted prosperity in both countries, he told GlobalAtlanta.
The ambassador visited Atlanta in early February to meet with government officials and speak with local business leaders and representatives from the Mexican-American community. A month after his visit, the Georgia House of Representatives passed a House Bill 87, requiring most companies to verify the immigration status of their employees and authorizing police to check the immigration status of anyone they reasonably suspect of being in the country illegally. On March 14, the State Senate passed a similar bill, Senate Bill 40, setting up a reconciliation process before a final measure can be sent to Gov. Nathan Deal's desk. In a wide-ranging e-mail interview with GlobalAtlanta, Mr. Sarukhan highlighted the vibrant commercial ties between the two countries and called for "cool-headed" debate on immigration. He addressed misconceptions about the issue and said no solution could be reached without a collaborative, "holistic" and bipartisan approach on both sides of the border. Mexico is working to boost its global competitiveness and create more jobs for its people, but comprehensive immigration reform in the U.S. is the "best way" to improve border security, he said. Legislative sponsors of the Arizona-style bills say that illegal immigrants - numbering about 425,000 in Georgia, according to the Pew Hispanic Center - put an undue burden on taxpayers. Critics say the bills are a sign of xenophobia and simply add another hurdle for small businesses while doing nothing to fix the immigration problem. When the economy slumped in the U.S. in the 2009-10, illegal immigration dropped, showing that immigrants come to work, not to game the system, Mr. Sarukhan said. "Unlike some pundits that falsely propose that immigrants come to the U.S. to take jobs and benefits, it has been proven over and over again that they give way more to the system than what they take, and that they come to this country to work," he said. Mr. Sarukhan also noted that the U.S. and Mexico have been working together on efforts to ensure the free flow of people and goods. In 2010, a new bridge and two new ports of entry opened linking Mexico with Texas and Arizona. Programs that pre-screen travelers and goods are also being explored. The ambassador used trade statistics to illustrate the border's vital role in commerce between the countries, particularly since NAFTA entered into force in 1994. While Asia grabs headlines, Mexico quietly continues to bolster the U.S. economy. The second-largest export destination behind Canada, Mexico buys more American products than Japan and China combined, Mr. Sarukhan said. U.S. exports to Mexico grew by 27 percent in 2010 to $129 billion. That jump, about $31 billion, was three times more than the yearly increase expected if the Korea-U.S. free trade agreement comes into force. Even money flowing into Mexico helps the U.S., he added. "For every dollar that Mexico earns from exports, 50 cents are spent on American goods, in comparison with the 6 cents China spends buying back U.S. goods," Mr. Sarukhan said. Though still a major problem, violence attributed to organized crime hasn't hindered Mexico's international partnerships, the ambassador said. Drug-related violence is mostly concentrated along the border, and 70 percent of homicides attributed to drug gangs occurred in seven out of 32 states. Mexico and the U.S. are working together to address the issue. Mexico has a five-pronged strategy that focuses on building capacity in local police forces and judicial systems. The U.S. side of the bargain is to stem the flow of illegal weapons and cash to Mexico while clamping down on the demand that ultimately fuels the drug trade. Mexico's economy grew at 5.5 percent in 2010, while many others were struggling to recover from the 2009 recession. Trade between Mexico and Georgia stood at nearly $4.27 billion in 2009. During his visit, the ambassador met with Mayor Kasim Reed and laid a wreath at the tomb of Martin Luther King, Jr. He also spoke to a luncheon audience of the Atlanta Council on International Relations.