by Enrique Peña Nieto, President of Mexico from
Politico Magazine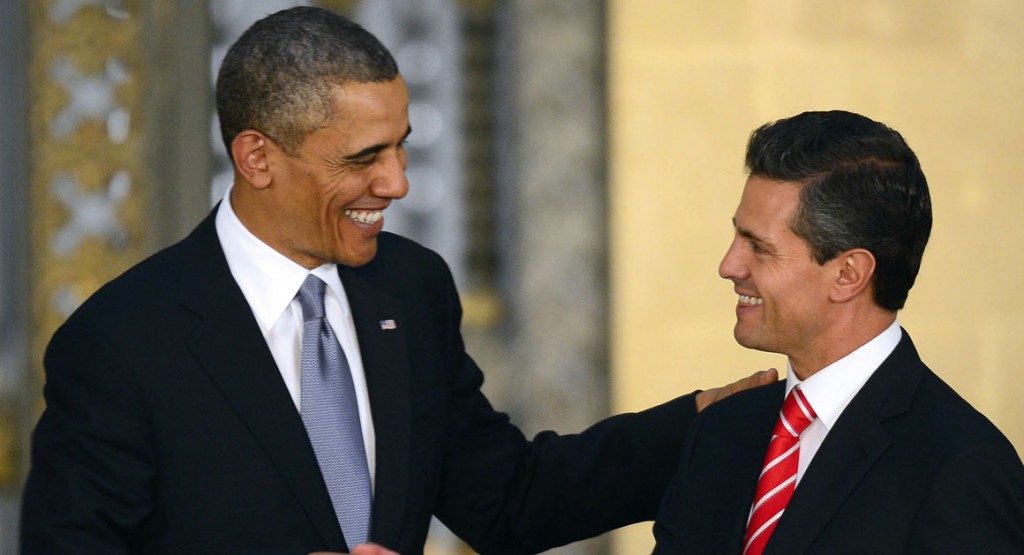 U.S. President Barack Obama (L) and Mexican President Enrique Peña Nieto during a joint press conference. AFP PHOTO/Alfredo ESTRELLA.

January 06, 2015 —
The United States and Mexico have enjoyed a unique and flourishing relationship over the past decades. I am delighted to start 2015 by visiting Washington, D.C. and embarking on new ways in which Mexico and the United States can strengthen our ties in order to make North America the most prosperous and competitive region in the world.
Our countries have an intense economic relationship that is spread over a myriad of areas. Since the beginning of my administration, I have worked with President Barack Obama to create bilateral mechanisms that harness the full potential of our relationship. We are already seeing concrete results from the High Level Economic Dialogue (HLED), the Mexico-U.S. Bilateral Forum on Higher Education, Innovation and Research (FOBESII), the Mexico-U.S. Entrepreneurship and Innovation Council (MUSEIC) and the 21st Century Border Action Plan of 2014.
We are steadfast in our belief that the continuous promotion of bilateral trade is a win-win situation for both our countries. Mexico is the third largest trading partner of the U.S., just behind China and Canada. Total bilateral trade between us amounted to more than $500 billion during 2013. Our exports to the U.S. have increased significantly since NAFTA entered into force, with roughly 80 percent of them coming to this country. Meanwhile, U.S. exports to Mexico in 2013 were $226 billion, up 443 percent since 1993. In fact, Mexico buys more U.S. goods than all of the BRICS combined—and nearly as much as the entire European Union. Moreover, 5.9 million U.S. jobs depend on trade with Mexico. Even Mexican exports benefit the American economy: 40 percent of the value of Mexican exports to the U.S. contains American inputs. By 2020, Mexico will have the capacity to build one in every four vehicles in North America, up from one in six in 2012. Additionally, Mexico has begun to invest in high technology exports; we have become the leading exporter of flat screen televisions in the world, the fourth largest computer exporter and a growing pioneer in the aerospace industry. We are interlinked.
To ensure the prosperity of our border we have worked together to improve security and facilitate trade. Every minute, nearly a million dollars worth of products cross our land border. Additionally, our countries have begun several infrastructure projects to make the border region a catalyst for growth and innovation. These projects include the San Diego-Tijuana airport pedestrian bridge, the railway crossing at Matamoros-Brownsville, and six new inspection booths at the Nogales port of entry. We have also reduced average waiting times at the San Ysidro-Chaparral crossing on the California-Baja California border from 3.5 hours to half-an-hour.
Our commitment to education has allowed us to take advantage of the synergies built through FOBESII and between our initiatives "Proyecta 100,000" and "100,000 Strong in the Americas." Last year, we launched the webpage
Mobilitas
, a platform to help students find educational opportunities in both countries. Furthermore, 23 cooperation agreements have been signed between Mexican and American states and universities. Altogether, we were able to reach our 2014 goal: 27,000 Mexican students are attending almost 200 universities across the U.S.
The United States and Mexico have recognized that the challenges and opportunities we face on immigration should be addressed from a broad regional perspective and based upon the principle of shared responsibility. Consequently, we are committed to working with our neighbors in Central America to foster development and prosperity in that region.
Over 34 million people of Mexican origin live in the U.S., 22.9 million of whom were born here. Mexican-Americans are socially and economically active members of their communities, and they maintain a strong binational identity. These communities are pillars of the relationship between our countries and will help us build a more prosperous shared future.
My government applauds President Obama's recently announced Immigration Accountability Executive Action, which acknowledges the positive economic and social impact of Mexican immigrants to their communities in the U.S. Furthermore, these measures will allow immigrants to increase their contributions to American society and live without fear of being separated from their families. My administration will continue to work with the U.S. government by providing services and consular assistance in order to improve the well-being of the Mexican community in this country. In order to raise living standards in Mexico—which will discourage undocumented immigration—my government has embarked upon a transformational path. We have sought to enhance my country's competitiveness, strengthen the rights of the Mexican people and consolidate our democracy.
Since taking office, my administration has taken on the responsibility of making structural change a reality. We have worked with Mexico's political leaders from the left, right and center, in order to put Mexico on the path to modernization, innovation and economic growth.
The Mexican Congress approved eleven structural reforms in several key sectors such as education, banking, telecommunications, justice, electoral system, labor, energy, economic competition and public finance. These reforms will better prepare our citizens and businesses for the global challenges of the 21st century and enhance competitiveness in our region. The implementation of these unprecedented changes is already taking place and will make our partnership with the United States even stronger.
In accordance with these efforts, my government recognizes the need to improve security conditions in Mexico. The tragic and despicable events that took place last September in Guerrero have been met by my government with decisive action: Over 70 individuals, including the masterminds, are already being prosecuted, and I will continue to stress that there is no room for impunity. Last November, I took steps to strengthen the rule of law and to promote fundamental reforms in the realms of security, law enforcement and criminal justice. We are focusing our efforts on shoring up institutional strength at the local level to prevent these types of events from ever being repeated.
The United States and Mexico have worked together to deepen our ties and diversify an agenda that reflects our strengths and common values. Together, we must build a more integrated, competitive and prosperous North America.